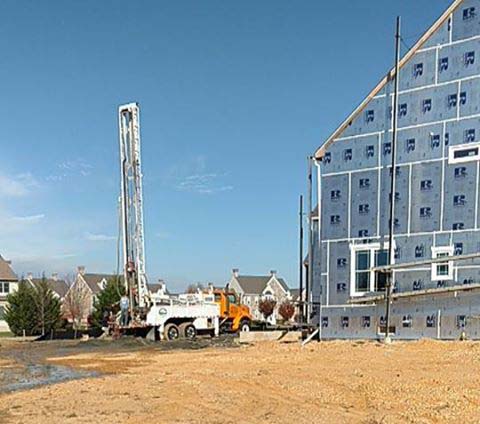 Geothermal is possible for most homeowners. However, it is most attractive for:
New Construction
Homes Burning Oil
Homes Burning Propane
Planned Replacement Of Old HVAC Equipment
Geothermal well drilling allows vertical pipes to be inserted into the ground in order to use the earth's temperature for heating and cooling.  We install polyethylene pipe loops at depths varying from 150' to 400' in order to circulate water in a closed piping system that provides heat in the winter and air-conditioning in the summer. We work directly with HVAC contractors and property owners by installing the earth heat exchange loops and water circulating system that connects to the HVAC equipment.
A 30% Federal Tax Credit is available on the cost of the entire installation, so now is a great time to consider it– not to mention it's the most efficient heating and cooling system available.
We offer complete drilling for geothermal including closed-loop "Geo Exchange" systems and groundwater heat pumps. We will work with HVAC (Heating, Ventilation, and Air-Conditioning) contractors to provide turnkey installations for heating and cooling your home. We pride ourselves in our service to the customer with the highest yield of clean potable water.
Contact Us Today For Well Service!